KORG new volca sample
Regular price
£139.00
£0.00
Unit price
per
VAT included.
Shipping
calculated at checkout.
Next Generation Design for Progressive Track Building
A new generation volca sample with more memory, features, and connectivity to take your music production further than ever before.
The volca sample is a compact and powerful sample-based drum machine that has captured the attention of countless creative players around the world.
This 2nd generation version retains all of the features which made the original so popular and adds a micro USB port for better connectivity, increased sample memory, a new up-to-date sound library, and additional functions for an improved workflow.
Features at a glance
Powerful sample engine with 8 voice polyphony
New USB connection for faster sample management and better connectivity
Dedicated librarian software (Mac and PC)
New individual MIDI channels assignment per part
Dual-band analog isolator and digital reverb
Motion sequencer records and plays back up to 11 parameters
Synchronized playback with other volca units, electribe, or DAW.
New Pattern Chain Mode with 2 different STEP JUMP modes and Start Delay function
Increased memory of 200 memory slots (double its predecessor)
Pattern locations have also been increased from 10 to 16.
A brand-new sound library; fits the needs of all music producers.
Compact size, battery-powered operation, and built-in speaker for enjoyment anywhere
Dedicated AudioPocket manager for iOS to record new samples on the fly.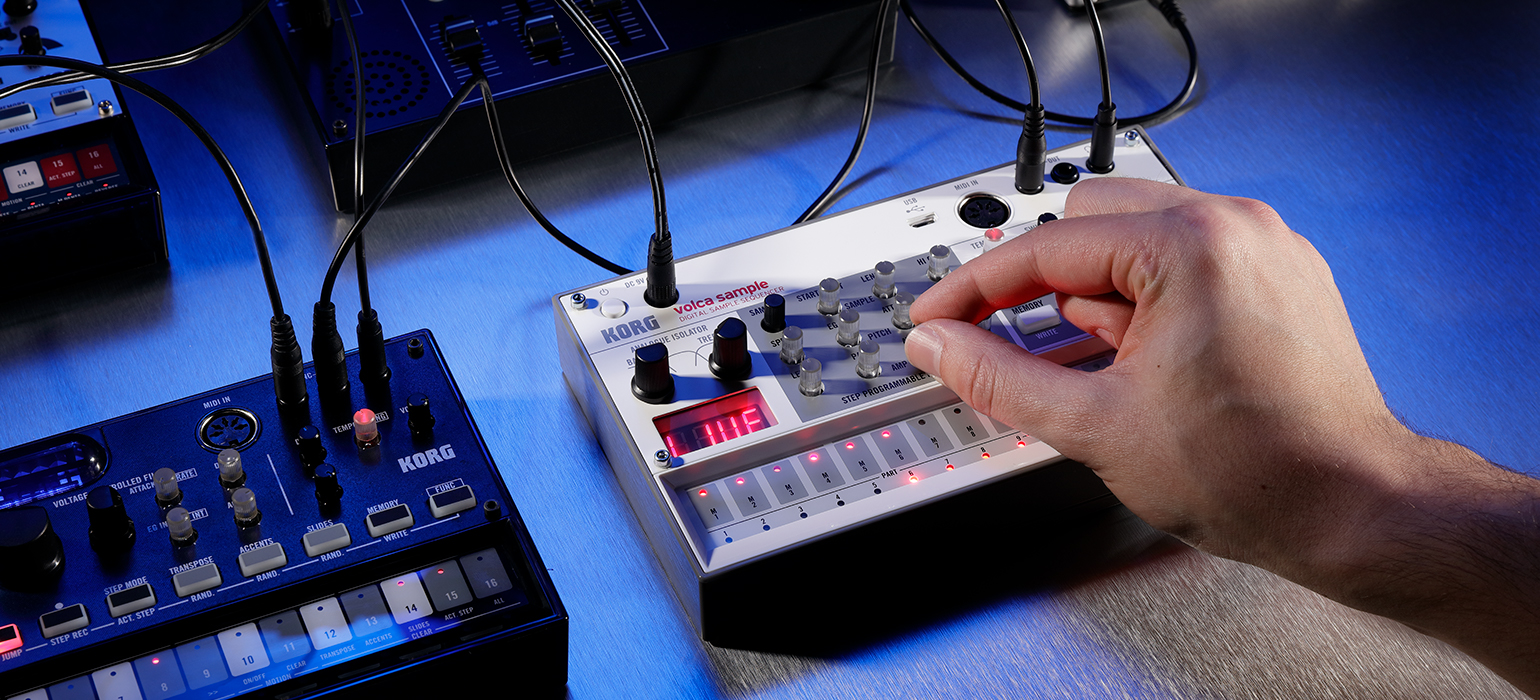 Your portable beat making studio
The new volca sample has everything that you need to advance your music creation in a compact form that works in the studio or anywhere you take it.
On its own, it is an advanced sample machine with a powerful engine capable of 8 voice polyphony, digital reverb, and a dual-band analog isolator. Totally hands-on, this new volca sample provides an amazing array of knobs for sample manipulation and performance sound-shaping. Plus, for added convenience, it runs on 6 AA batteries, has an integrated speaker and at only 372g/13oz (without batteries) is perfect for stand-alone use!
Furthermore, with its USB, SYNC IN-OUT, and MIDI connections, the volca sample can integrate seamlessly with your live rig, production studio, and of course any other volca!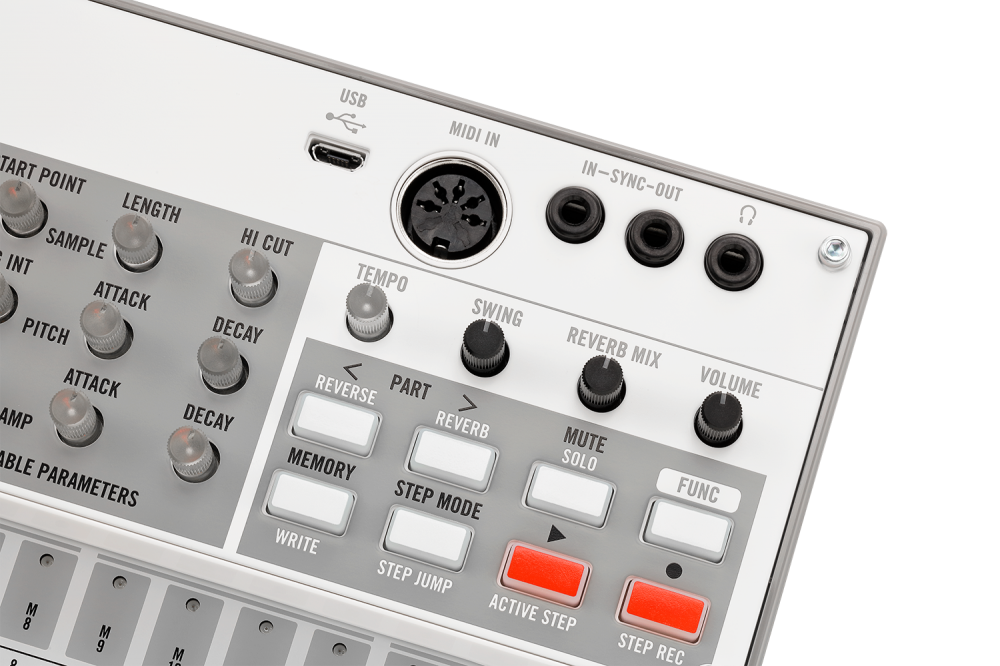 USB for Faster Sample Management and Better Connectivity
The new micro USB port provides a convenient connection between the volca sample and a computer for streamlined integration and sample management, allowing you to easily control, sync, and play your volca sample from any DAW. With newly added individual MIDI channels assignment per part, it is now easier to perform when using an external device such as a sequencer or keyboard.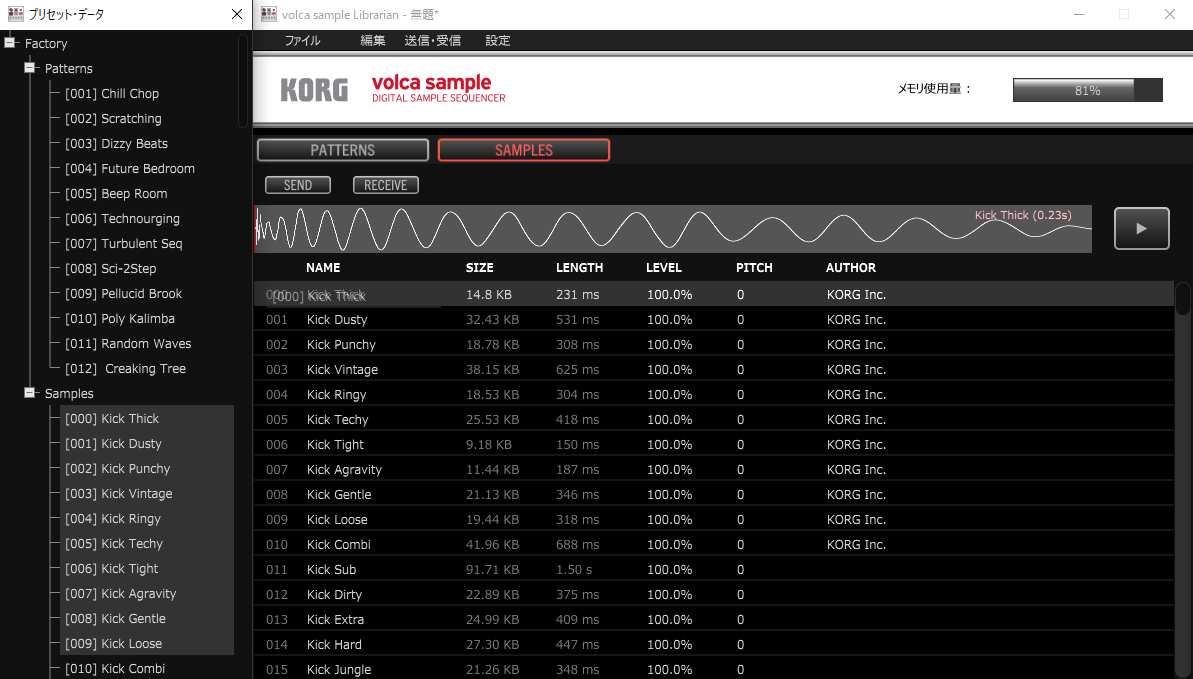 Easier Sample and Pattern Management with your Computer
With the volca sample's dedicated Librarian software (available for Mac and PC) utilizing the USB port to manage and send your samples and patterns back and forth is now an instantaneous and pain-free process.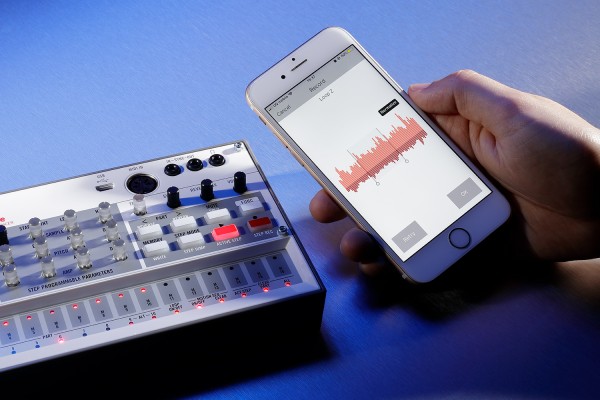 You can also use the dedicated app AudioPocket manager for iOS to record new samples on the fly and transfer them to your volca sample instantly.
Added Features: Take your Beats Further
Two new features have been added to this new volca sample that will help in your music-making process:
Pattern chain mode with 2 different STEP JUMP modes
Start delay function: Go "off the grid" with the new delay feature that lets you slightly delay the start of any part to achieve different kinds of grooves or a swing feel.
More Memory, Pattern Locations, Samples, and Bonus Packs!
volca sample has an increased memory of 200 memory slots; double its predecessor. 50 are left empty so you can load either your own original or pre-made libraries.
The new generation of volca sample comes with a brand-new sound library that has been carefully crafted to fit the needs of all music producers and beatmakers everywhere.

This great selection of 150 samples will take your production to the next level, making it possible to make tracks on the fly with sounds that will fit every genre, including recent ones such as Future Bass, Trap, Lo-Fi hip hop, and many others!
Download Free bonus data for the new volca sample!
---